---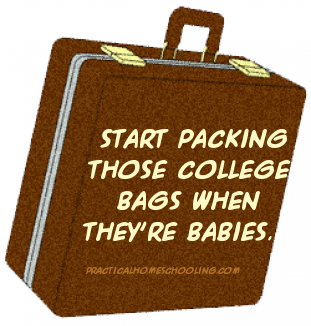 The tools your child needs for a successful college experience need to be packed slowly over the years before he actually goes to college. The most important skills needed for college are listening, researching, writing, and communicating. If your child possesses these skills he will be successful in college and in his chosen path after college.
Learning the Tools
These tools do not necessarily come from textbooks or years spent drilling them into your child's subconscious. It's much easier to integrate them into his everyday life from the very beginning so that he will see not only the how, but the why of doing research and communicating the knowledge acquired. It begins the first time he sees you open an encyclopedia to learn something you didn't already know . . . or the first time he sees you research a topic for Bible study. It makes an impression that lasts a lifetime. As soon as he is old enough to open a book, he will imitate the example set for him. It's as natural as learning to walk or talk.
He learns to ask questions and listens to the answers as he hears you explain, for the thousandth time, what makes a rainbow or why the leaves fall off the trees in autumn. He listens while you read verses from the Bible, and talk about their meaning. He listens when you captivate his attention with stories of knights and castles. The excitement for learning is sparked, and the next logical step is sharing that excitement, not only with you, but with anyone who will listen. He wants to copy the joy that the written word brings to him, and share it with the world.
Thus - the final step - communication skills are acquired. He learns to communicate both orally and in written form all the wonders of the world, because that's the way we share the things in life that excite us most! We talk, we sing, and we praise! What better way to do it than on paper? Again, it is as natural as learning to walk or learning to talk! He hears the words, he wants to read them. He reads the words, he wants to write them. He writes the words, he wants to share them. At that point, he takes pride in the skills God has given him, so he works at refining those skills until he writes well. The details of grammatically correct sentences have become obsolete. The sentences are grammatically correct, because that's what sounds right to the ears that have been trained to listen.
Learning What is Needed
Now you say, what about math? Biology? History? If a child reads well, and his lifetime has been filled with listening, learning and exploring then he naturally explores these topics, too. If college attendance has always been a priority in his education, then by his teen years he is aware that upper-level math will probably be a necessity for acceptance into a 4-year-college program. At that point, it becomes his responsibility to use all those already acquired learning skills to attain his goal . . . learning what he needs before he begins his college years. As a parent, your job is to help him research what the college he hopes to attend requires for acceptance, and help him decide how he can fulfill those requirements. This varies from college to college, so research is necessary. Please don't make any assumptions; call to find out.
If he has mastered the reading, writing, and communication skills, the rest will take a very short time. Four years of upper-level math can be covered in a year, if need be. A biology text can be read in a week or two. History, more likely than not, was learned long ago with great books from the library. So the entire high school process could possibly be completed in a year. On the other hand, your child can spend all that extra time studying wonderful topics of interest and expanding his knowledge well beyond college level. That choice is up to your family!
Being prepared for life should be the ultimate academic goal . . . not knowledge itself. A prepared student can acquire the knowledge when he needs to put that knowledge to use, but an ill-prepared student will flounder and perhaps fail. Cramming information in doesn't work, because it is soon forgotten. Allowing them to develop a love for learning works every time. So start packing those college bags when they are babies, even if they will be doing college at home!