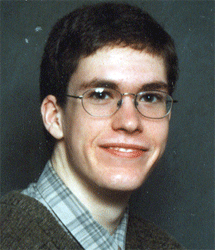 Stephen Shannon
Former columnist for
Practical Homeschooling Magazine
.
Stephen Shannon of Fort Wayne, IN, is the third of eight children, and has been homeschooled from kindergarten through grade 12. A National Merit Commended Student, he has been awarded a full honors scholarship to Indiana University-Purdue University at Fort Wayne in 2004.
---
Homeschooling Articles by Stephen Shannon
What I learned at the Dale Carnegie Course If your child would like to be a leader some day, it might help to learn some leadership skills. Here is where one homeschooled student found it all.