---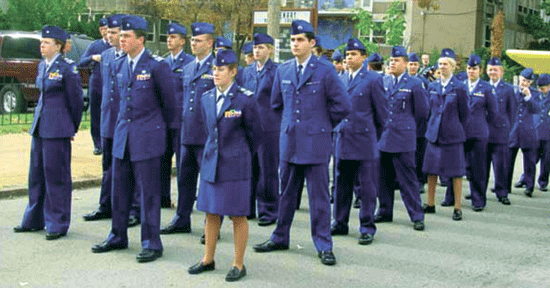 Getting in formation for marchng in a parade
There are many deserving volunteer organizations out there, so how can any young man or woman who wants to make a difference choose what to do? The answer for me came with Civil Air Patrol (CAP), the cadet auxiliary of the United States Air Force. CAP was known as the best-kept secret in America until 9/11. That first little airplane that caused so much initial panic was indeed a Civil Air Patrol search and rescue aircraft.
Civil Air Patrol was established December 1, 1941, just a few days before the Japanese bombed Pearl Harbor. Civil Air Patrol preceded the United States Air Force by six years and during that time helped out the war effort by flying sorties and working as air defense against submarines.
Today, Civil Air Patrol has over 64,000 members and over 27,000 of these members are cadets. A cadet is anyone who joins between the ages of 12 and 18. If you join before you turn 18, you can continue your service as a cadet until you are 21. Senior members are any person who joins after he or she turns 18 or who transfers to senior member status after he or she turns 21.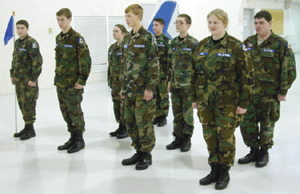 My flight at Missouri Wing encampment during a drill exercise
Civil Air Patrol offers a wide range of educational and service opportunities that begin as soon as a cadet joins. From the time you join to the time you retire or leave the program you are expected to attend meetings regularly, participate actively in unit activities, obey your officers, wear your uniform properly, and advance your education and training rapidly to be of service to your community, state, and nation. All of these things are part of the cadet oath of service. This is a serious commitment for any young person. Cadets are required to take care of their uniforms (full dress Air Force blues and BDUs) and learn basic drill and ceremonies along with customs and courtesies.
Civil Air Patrol has three programs: Aerospace Education, Emergency Services, and the Cadet Programs. Aerospace education is a required part of the cadet program. You can do hands-on activities or just study the aerospace books that come along with the binder and other materials you are given when you join. CAP cadets also participate in emergency services and are trained to help in real-life search and rescue missions. When a plane goes down and can't be found quickly, CAP is called in. I have personally participated in a number of these missions.
During your time in CAP you advance in grade and rank (grade and rank are two separate things) after you pass four requirements. To get promoted the first time you must take the first leadership test and pass it with a score of 70 percent or better. After the first leadership test you have to pass another leadership test and an aerospace test before you get promoted. The aerospace test is based upon the books you received with your membership packet and the tests also have to be passed with 70 percent or better. You also have to pass a physical fitness test, or PFT for short (this is necessary for each level of the program), and participate in at least half of the moral leadership classes that are taught during the time in between achievements.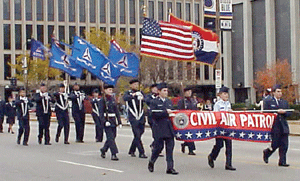 CAP honor guard marching in the Veterans' Day Parade
Every cadet starts as a cadet basic and the highest grade a cadet can earn is cadet colonel. This is a highly prized achievement for any cadet. There are less than 1,550 cadets who have ever achieved this award in the cadet program's history.
The Perks. The perks of Civil Air Patrol include, but are not limited to, Air Force scholarships, special awards through the program, a great item for any resume, special scholarships from colleges and universities, an overseas exchange program, and an introduction to the military if that is your calling. There are many more perks for anyone who is interested in the Air Force, including getting to know the uniform and how to care for it, military discipline, customs and courtesies, and interaction with other people who may have common interests.
The Competitions. After you are sufficiently trained in drill and have learned enough about aerospace education or leadership to make a normal person's head spin, you will be ready for any number of different cadet competitions including, but not limited to, Color Guard or Honor Guard competitions, Quiz Bowls (for aerospace or leadership), drill competition, marching band competition, and overall excellence competitions.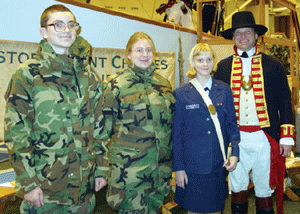 Time off from recruiting at an RV show, by meeting a descendent of Captain William Clark of the Lewis and Clark expedition
The Opportunities.
During your career in Civil Air Patrol you will have many opportunities to do different special activities. I especially encourage you to participate in these activities. Activities include, but are not limited too, wing encampments (week-long training in leadership, drill, aerospace education, and uniform care), emergency services training, Honor Guard camps, IACE (International Air Cadet Exchange), Aviation challenge, Space Camp, Search and Rescue School, National Blue Beret, Cadet Officer School (for Captains or higher), and specialized training in areas of expertise including observer, Critical Incident Stress Management, ground team member, urban direction finder, ground team leader, administration, finances, incident commander, etc. Different states or squadrons offer different activities.
During my two-and-a-half year stint in Civil Air Patrol I have learned more about teamwork, friendship, and trust than I could have ever imagined. You don't just learn about aerospace; you learn about ideas and people. You don't just learn about emergency services; you learn about helping others and service. You don't just learn about the cadet programs; you also learn about friendship, trust, commitment, teamwork, camaraderie, and the joys of working hard and accomplishing something. This is worth more, in my estimation, then any other thing I have ever done because it is about other people, not just me. I would highly suggest you join if you are interested in aviation, emergency services, working with other young people with commitment, or just in helping others.
If you are interested in joining, you can go online and visit the official National Headquarters Civil Air Patrol website at gocivilairpatrol.com. This website has information on the program, aerospace education, and a general FAQ about the program as well as a squadron locator.
If you are just interesting in visiting a squadron in your area, go to hosted.where2getit.com/civilairpatrol/. After you find a squadron you can call up the squadron commander or just visit the squadron. If you wish to join you should bring one of your parents along to the meetings for the first three and after that duration of time, you may join. Current annual dues are $25-$45, depending on what state you live in. Civil Air Patrol is a tax-free organization and anything you pay for in the interests of CAP is tax deductible.
Thank you and I hope to see you in uniform!