---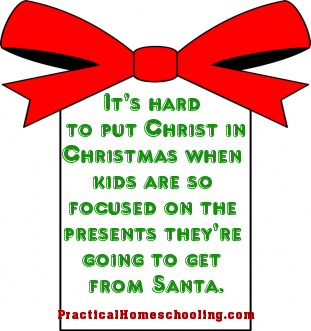 As you recover from this year's Christmas shopping, here are some thoughts to help you endure next year's fake Santa Clauses and their endless attempts to turn your sweet kids into Gimmie Monsters. (If you are reading this before Christmas, that's even better!)
The Puritans solved the Christmas gimmes by banning the whole holiday, Christmas trees and all. More recent attempts to "put Christ back in Christmas" have ranged from flaming the man in the red suit (as one suspicious reader pointed out, "Santa" is an anagram of "Satan"), to planning Christian Christmas parties, to elaborate Advent preparations. But no matter how hard families try to make Christmas into a genuinely Christian holiday, all such attempts seem to founder on the children's natural yen for goodies. As December approaches, "What am I going to get for Christmas?" is the question uppermost in the mind of every child over the age of 1.
Several years ago our family finally figured a way to beat the Christmas greed and guilt machine. I hope you are getting this issue in time to put our trick to use this year, but if not, it will work fine next year. Here it is:
Give regular presents -- bikes, dolls, games -- on Thanksgiving.
Give presents designed to increase spiritual growth at Christmas.
This works like a dream. Since we are supposed to be thankful at Thanksgiving, what could make a child more thankful than to receive a gift?
You won't be a spoilsport by not giving anything at Christmas, either. By giving Bible games, Christian software, and other Christ-centered presents, holiday greed vanishes, to be replaced with a more reverent feeling.
At PHS, we always put our money where our mouth is, so you'll find dozens of Bible products reviewed in this issue -- enough to provide gifts for every family member and friend on your list, plus some!
Not that you have to try our idea. But it sure would be nice if all those shopkeepers who wish us "Happy Holidays" or "Merry Xmas" would discover that their customers wanted Christian products for Christmas.