---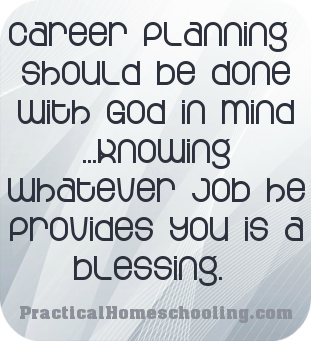 In our last episode we launched "teen shuttle" without a mission. Soon after launch, our teen found himself "Lost in Space" - needing a motivating sense of mission, mastery by a godly philosophy of mission, and movement toward a unique calling. We promised you teaching on biblical principles involved in the idea of finding and fulfilling a career/calling designed by God.
Here we go!
Biblical Principles of the Career-Planning Process
Each teen is a unique creation of God. "For thou hast possessed my reins: thou hast covered me in my mother's womb. I will praise thee; for I am fearfully and wonderfully made: marvelous are thy works; and that my soul knoweth right well." (Psalm 139:13-14) God has intelligently designed each person from the womb. Each teen should therefore stand in awe of the creator and in excitement to submit himself to God for the purpose of forwarding His plan in the earth. Discovering that unique God-given purpose, then training for and accomplishing it with excellence, provides a lifelong mission.
God blesses each person with work-related talents. "Having then gifts differing according to the grace that is given to us, whether prophecy, let us prophesy according to the proportion of faith; or ministry, let us wait on our ministering: or he that teacheth, on teaching; or he that exhorteth, on exhortation; he that giveth, let him do it with simplicity; he that ruleth, with diligence; he that sheweth mercy, with cheerfulness." (Romans 12:6-8) This scripture, while specifically relating to ministries in the church, effectively teaches that each person is gifted differently to accomplish a work for God. Even so, each person is also gifted for his work in the broader society.
We are to be excellent in our work and be an example to others. Excellence comes from development of our God-given talents. "But to the saints that are in the earth, and to the excellent, in whom is all my delight." (Psalm 16:3)
Daniel had an excellent spirit. In fact his excellence resulted in exceptional educational opportunities and a career of political leadership. The Christian teen should prepare for his providential placement in the world through development in excellence. Oh that today's young men and women would hear this call to excellence, that in the next century Christianity would regain the upper hand in western civilization through application of God-given abilities to every arena and department of life and work.
Our larger calling includes impact for Jesus Christ in the broader society through our work. "Let your light so shine before men, that they may see your good works, and glorify your Father which is in heaven." (Matthew 5:16) This impact can take many forms. An 18-year-old in Durban, South Africa told me he planned to develop his life as a farmer. Knowing that many people in Africa do not have enough to eat, this young man has heard the call to meet this basic need for his countrymen. His light will shine before men. What need will your teen meet?
Roots of Career Satisfaction
Like it or not, work is an integral part of the world we live in. "In the beginning God created the heavens and the earth. And by the seventh day God completed His work which He had done; and He rested on the seventh day from all His work which He had done." (Genesis 1:1, 2:2)
Work was part of God's original design for mankind. "And the Lord God planted a garden toward the east, in Eden; and there He placed the man whom He had formed. Then the Lord God took the man and put him into the Garden of Eden to cultivate it and keep it." (Genesis 2:8, 15) Even after the fall, work is described as a gift from God. Yet much of modern culture seeks to work little and play much. Work is leftover from paradise to bring meaning to our lives and improvement to our world. When my 11-year-old son, Andrew, mows the lawn with no skips and neatly aligned parallel cut lines, he says with great satisfaction as God did, "it is good."
God has created each of us with gifts, abilities, and interests. His will is for us to discover our talents and gifts and use them to His glory in our work. "For we are His workmanship created in Christ Jesus unto good works which he hath before ordained that we should walk in them." (Ephesians 2:10) Don't expect work to meet all your needs. There is no perfect job or career that can substitute for a dynamic relationship with Jesus Christ. You are designed to fulfill God's will; not for God to make you feel great about every aspect of your life.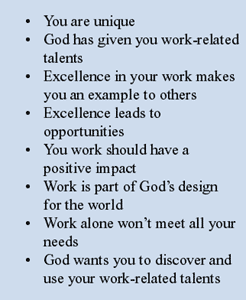 We will be held accountable for what we have done with the talents entrusted to us. "For we must all appear before the judgement seat of Christ, that each one may be recompensed for his deeds in the body, according to what he as done, whether good or bad." (2 Corinthians 5:10) We have been gifted to fulfill His purpose, not just to fulfill our own desires. Jonah sought to avoid the gift and calling of God in his life, but God made sure he fulfilled his purpose nonetheless. Thousands of people were saved from God's wrath through his oratory. How much more should we seek to express our talents in the line of our duty to God!
These scriptures provide a simple study to back up your godly pursuit of the career path designed by God for you to fulfill. Do not separate life into the sacred (church) and the secular (work). See life as a whole to be lived fully for God. God has designed you with a purpose. You will be happiest and most satisfied when working for him in your designated role, whether it is easy or difficult, comfortable or uncomfortable. We need young people who will dedicate themselves to fulfilling a call from God to produce godly impact in the church and on the broader society. Find His will, prepare to fulfill it and do all to the glory of God.