---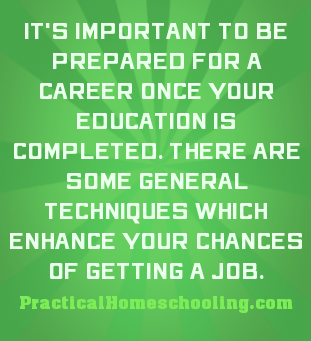 ''What do you want to be when you grow up?" I was asked that question many times as a young man. Depending on my age, I had many different replies, including "a cowboy," "a mayor," "a customs agent," "a fireman," and "a singer." As with most young boys, at one point I wanted to follow in my dad's footsteps and become a truck driver, which is one of today's fastest-growing careers. It seems like every time I saw someone in the workplace, I knew that's what I wanted to be.
Making good career decisions and deciding "what you want to be when you grow up" begins with self-assessment. Knowing your aptitudes, interests, values, and personality traits is essential to finding a satisfying career. Doing something you enjoy ensures that you will be more successful, have more enthusiasm, and be happier with your career choice. Employers want people who are enthusiastic about what they do; it can make a real difference in terms of job performance and satisfaction.
Career awareness and exploration can be integrated into your curriculum so that as your children progress from year to year, they also develop the ability to make sound, informed decisions about their future.
The first step is knowing themselves. There are two paths to take. One is the formal testing approach. Two widely used tests are the Strong-Campbell Interest Inventory, which is more suitable for high-school age students, and the Kuder General Interest Survey, which is more suitable for younger students. These tests and others are administered by career development professionals, including National Certified Counselors who have been certified by the National Board for Certified Counselors. Lists of these counselors are available by state from the NBCC.
Resources that you can use at home include the self-scoring and self-directed assessment tools from Jist Works, Inc. Various self-awareness materials are also available from CFKR Career Materials. Both companies are listed as resources at the end of this article.
The second path to self-assessment, and arguably the most meaningful, is through their learning experiences. Kids will naturally like certain school subjects better than others; some tasks will be easy, some will not. Their personality and interests provide information that can be used to narrow the search for potential career possibilities.
While many of you already keep a student portfolio for recordkeeping purposes, each student should also have a career development portfolio. This portfolio can begin when your student is nine or ten years old, and be expanded through the teen years. You might divide it into three sections: personal assessment, career exploration, and career preparation. It should include a list of personal interests, personal skills, and personal qualities. These lists can then be used to guide students into exploring types of work that fits their profile.
A portfolio might also include the following categories: people you find interesting and why, school subjects that are interesting, types of work that seem interesting, leisure time activities and hobbies, volunteer experiences, and participation in community projects.
Almost every aspect of your curriculum can be tied into an activity, exercise, or experience that will enhance your student's career intelligence. For example, while on a field trip - whether to a museum, zoo, historical place, etc. - encourage your students to observe the workers and make a list of those jobs that might be of interest and why. Suggest that they go one step further and actually talk to someone about their work. These observations can become a part of the career portfolio. Taking note of people in the news and the kinds of jobs they have can also be useful. Clipping newspaper articles about interesting careers can be helpful.
According to Susan Quattrociocchi, Ph.D., Director of Northeast Tech Prep Consortium, "Young people need to develop the personal awareness and self-confidence necessary to make wise career choices. You can help them identify their unique talents. Nurture their skills, abilities, and interests. Help build self-esteem, a sense of effectiveness, and instill hope for a successful future."
---
Resources
Discover What You're Best At. Gale. Simon and Schuster, Fireside Books. 1230 Avenue of the Americas, New York, NY 10020, 800-223-2348. $13.
Test Your Own Job Aptitude. Barrett, Williams. Penguin USA, 375 Hudson Street, New York, NY 10014, 800-788-6262. $12.95.
Jist Works Inc., 720 North Park Avenue, Indianapolis IN 46202, 800-648-5478.
CFKR Career Materials, 11860 Kemper Road, #7, Auburn, CA 95603, 800-525-5626.
National Board for Certified Counselors, 3 Terrace Way, Suite D, Greensboro, NC 27403, 336-547-0607.
The Internet also provides some interesting and useful sites including, http://www.ncsu.edu/careerkey/ and http://www.explore.cornell.edu.