---
What Is an Advanced Placement Exam?
There are currently 30 AP exams.
They are only offered once a year, over several days in May.
Exams are scored from "1" (the lowest score) to "5" (the top score).
The vast majority of American colleges and universities allow course credit for certain AP scores in most subjects.
Generally, a "3" or above in, say, English Language & Composition will allow a student credit for semester one of Freshman Composition. Some schools require higher scores, while some only provide advanced placement (you get to take a more advanced course instead).
Be sure to check with your intended college as to their AP policy.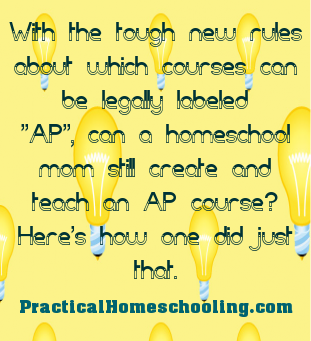 I was stupefied when I heard we could not use the "AP" designator for Advanced Placement coursework on a student's transcript without prior approval of the course's syllabus by the AP Central division of The College Board. In effect, the letters "AP" are now copyrighted. If they are used on a transcript without subjecting the course's syllabus to the AP Central's audit service, a student could permanently lose the right to have the AP designator on his/her transcript-ever. An online ledger keeps track of approved AP Course providers for the benefit of college admission officers.
In our family we had always homeschooled for excellence, with an eye on making sure we had college prep coursework: the right number of English and history classes, the right sequencing of mathematics, etc. My older two sons had taken AP tests before the course audit process was initiated, and I felt enabled and deserving to note AP on their transcripts. Now it didn't seem fair to me that our youngest three children would not have that same advantage.
I took up the challenge to write a syllabus for the AP World History audit. There was a special sign-in area for homeschoolers to register for the AP Central Course Audit. The registration area for homeschoolers had no preliminary school administrator interface, but allowed the home educator to sign in directly to the audit account. I read about the process of completing the audit. The AP Central page had links for a course description, sample syllabi, and recommended texts for each AP Subject. It was an overwhelming amount of information, but what they asked for didn't look that hard.
I had previously used the College Board's website to find a recommended text for teaching AP World History to my older sons. The textbook I selected had a large online website through its publisher. For each chapter it provided a multiple-choice test, map studies, discussion questions, essay questions, and website links for exploring primary documents online. My strategy was to create a "standard chapterly assignment" that would cover the categories of history suggested by the AP World History course description.
These acronyms were used to make a grid on which to hang our historical studies: C-GRIPES or SPRITE. The major divisions of knowledge used to categorize history with C-GRIPES are cultural, geographic, religious, intellectual, political, economic, social. With SPRITE they are social, political, religious, intellectual, technological, and environmental.
This is roughly how I went about structuring the class. First I choose the textbook from those suggested by The College Board. In choosing your text, an important factor should be how well it is supported online by its publisher. Select the text that provides the best online study resources. If that seems like too much work, you could do an online survey of the various Christian schools with AP coursework and see what textbooks are being used by them, then choose one.
Probably the most difficult requirement of the course was fitting the 40 chapters of our history book into a 34-week school year. Specifically, the coursework needed to be equally weighted globally, with Europe receiving no more than 30 percent of the course time and equally as far as the five time period divisions of human history. The textbook that I chose took 12 chapters to cover the first time period. Those 12 chapters needed to be covered in 6 weeks! It took some planning for what our school year would look like to finish the book in time for the May AP exams.
Next, with a printed copy of the course description from the AP Central website (CollegeBoard) I fit the recommended course content into the yearly schedule under the right chapter of the text, to act as the beginning for outlining each chapter. Finally by using some of the online textbook's study resources in a standardized assignment-which included taking the tests, completing some primary document study, and map work-I fashioned a repeating assignment that would allow all the criteria of the course to be met.
I also scheduled five practice AP World History free response essays into the year's work, as well as sufficient time for my student to learn how the essays are graded, using the rubric provided by AP Central. After the May AP exam was complete, my student would write a paper as well. The final details of the course were the grading criteria, which I divided into 40 percent for the standard assignment, 40 percent for the exams and essays, 15 percent on the paper, and 5 percent for oral participation.
I spent about two months working on the syllabus. It was difficult to get started, but once I figured out to use the course description and apply it to the chapterly grid, it got easier. I have five children, so I was motivated to not let the AP door close me out.
My course was approved by AP Central audit the first time through. I was prepared to do revisions-the site even has a section committed to common problems with syllabi. Fortunately I didn't make any of the "common problems" . . . or create new ones either! I had connected the dots by using the copious resources from the audit website.
Now that my syllabus has been approved, I can use it from year to year by accessing my AP Course audit account and renewing it with a click to reactivate it. This history syllabus will be used by the rest of my children as they come down through the ranks, so it was worth it to me.
The process of passing the syllabus audit was like completing a well documented, criterion-referenced homework assignment. I would encourage other homeschoolers to do it. Use the resources available on the Internet to pass the AP audit and don't be put off.
A hidden benefit of completing the audit process is that we finished all of our coursework this year, because we had to stay on track!
Of further note, we do dual enrollment at our local community college as well as AP classes. My older boys have had good learning experiences with dual enrollment. However we feel pretty strongly that children need to reach a certain maturity level to use that educational option. AP course work can be started much younger than age 16+ years-the age I believe should be reached before sending our children to the community college.
Finally be aware of your calling. When you are successful in writing your own syllabi as I have been, consider whether God is calling you to continue planting godly seed by teaching after your own family is grown. Or perhaps you will follow in the steps of other parents and write books and edit magazines. I believe the impact of homeschoolers is not just in their offspring, but in the moms and dads who have maintained and continued to nurture their own knowledge and wisdom and share it.
IMPORTANT NOTE: I recently found out that homeschoolers who pass an audit should save the congratulatory email which states that they have passed the course audit. This is the only validation you will receive, at this point in time. (There had been talk about a letter being sent.) For privacy reasons no individual names are put into the ledger. The approval letter is then attached to the transcript, to show validation.
Sheryl Olson holds a bachelor's of science in nursing. Before her family was born, she practiced in the emergency room, critical care, and bone marrow transplant units. For the past 15 years Sheryl has totally homeschooled her five children. One son just finished his first cadet year at the US Air Force Academy-only four more to go!