---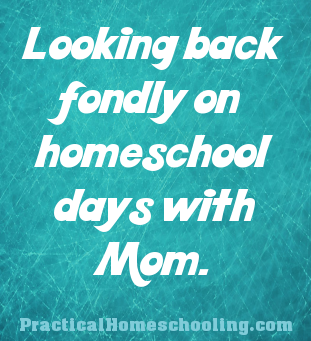 She wasn't perfect. She had days when her curly hair stuck out in all directions and her mouth was clamped tight with frustration. But those days are not the days I remember.
I remember mornings when I woke to the sound of Mom taking a shower before anyone else was up. She would start the laundry, fix breakfast, get out our textbooks, help us kids find our miscellaneous misplaced items, talk to my dad, and keep things moving until 8:30, when we began our school day with Bible reading and prayer. She prayed earnestly for each of us-for our attitudes, understanding, and growth.
My mom scheduled our days far ahead of time. Her big blue notebook was packed with the details of each lesson. The kitchen table was our Central Hub, where Mom spread out her planner, teacher's manuals, and our textbooks. Each of us kids had a spot in the house where we would take our textbooks to study. We read the lesson, answered the assigned questions, worked on the project, and then brought the books and papers back to Mom's table. She would take our papers to grade and hand us the materials for the next subject. She took time to talk to us about interesting things in each lesson. If we didn't understand something, she was always ready with an explanation.
We had few field trips, since people in our town would raise their eyebrows at kids walking around outside during school hours. Still, we thoroughly enjoyed our homeschool. It allowed us to spend time together as a family. When we finished our work early, we could read, play games, practice music, or use the computer. My brother and sister and I created a whole world together, including maps for each imaginary country.
My mom, a creative woman herself, encouraged us to draw, to pretend, and to make things. The closets of our house were stocked with craft supplies, LEGO bricks, playdough, and other toys that we could manipulate. We learned to use things in creative ways. A hockey stick became a staff or a sword. An old sheet transformed into a robe, a lake, a tent, or a pair of dragon wings.
As early as possible, she taught each of us to read. Every Christmas, she and my dad bought a stack of JourneyForth novels for us. My sister and I devoured those books, eating up our own supply and then swapping novels. Encouraged by my mother, both of us developed a deep love for writing.
My mom never gave us undeserved grades. If she saw mistakes, she marked off for them-not harshly, but enough so that we learned to be more careful. I remember several times I made a C when she knew I could have achieved an A. She scolded me, not because she wanted perfection, but because she wanted me to do my best. She knew there were those in the world who would look down on us for being homeschooled, and she wanted us to be able to stand up to them.
In the high school grades, we began using a video program to supplement the textbooks. This took a heavy load off my mom for those complicated subjects like physics and trigonometry and fulfilled her desire that we have the best education she could provide.
Finally I graduated from high school and took the ACT. Imagine my astonishment when I got a perfect score on the English grammar section and high scores on the other portions of the test! My mother was ecstatic.
When I reached college, I found that I had been prepared far better than most of my classmates. Mom had taught me how to study, how to be disciplined, how to read with understanding, and how to look beyond the words on the page and think for myself. Only then did I really begin to understand how much she had poured into me and my siblings.
I graduated from college with a degree in English and a 3.7 GPA. Right now I have a great job writing for BJU Press in Greenville, SC. But I don't deserve the credit for those good grades or the discipline it took to achieve them. Someone else put in a lot of effort to make my success possible.
To those moms out there who are sacrificing countless hours to give their kids the best education possible-I salute you. Someday your children will look back, as I have done, and realize what wonderful things you have done for them. And to my mom, my amazing teacher and friend-thank you. For everything.