---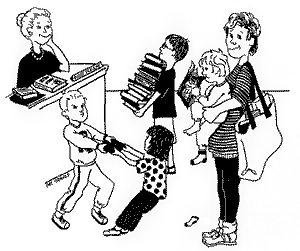 I have four children who are all under the age of eight. Now, I know to many homeschoolers, that's just considered a good start. But to the rest of the world, let's face it . . . we are a mob. Whenever we go out in public, I'm always aware of the impression we make. And since we are conspicuously homeschoolers, especially in the middle of a weekday, that impression is also a witness.
So it is with great trepidation that I venture out my front door with my very unpredictable horde of children.
I used to take them to the supermarket: babies in one cart, groceries in another. But a seven-year-old pushing a cart loaded down with enough food to feed a family of six for a week isn't pretty. After all, it takes two check-out guys to get all that stuff out to my van, how can I expect my little guy to handle it? But if he pushes the baby cart, it can get even worse. He gets too wrapped up in making faces and entertaining the baby that he forgets to watch where he's going and . . . well, you get the picture.
I've tried just one cart, letting the pre-schooler walk. But the baby ends up opening every package in the cart, and the preschooler opens every package on the shelves. I've also tried pulling one cart and pushing another, but got tired of hearing "My! You've got your hands full!" in every single aisle.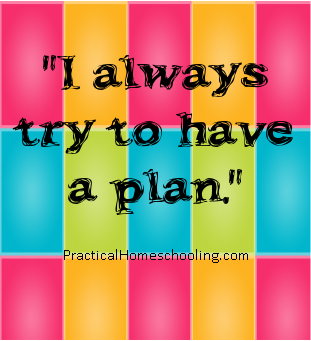 So I've given up "supermarket field trips" and joined the ranks of the moonlight shoppers, after all the little ones have been tucked in and my husband has become settled in front of the 10 o'clock news and the Rush Limbaugh show. I can even listen to something other than Spanish lessons or the Donut Man on my way to the store. So it's a nice change, even if it is a little lonely.
There is no such solution for our regular attack on the public library, however. After all, the children need to go in order to pick out the books they want. And our local library branch is rarely open during the hours my husband is home. So, there's nothing to do but load up the van, take a deep breath, and dive in.
Quiet does not come naturally to my family. To my kids, "Be quiet!" means, "Don't scream or jump on the bed!" Whispering is something they only do when they don't want me to know what they're up to. So asking them to not talk loudly in the library is like asking them to hold their breath - they can only do it for so long. The objective, therefore, is to get in, get the books, and get out as quickly as possible.
It doesn't help that they are always excited to go to the library in the first place. I mean, where else are they allowed to have anything they want and as much of it as they can carry? It even makes me giddy to think about it!
I always try to have a plan. I list all the books and topics we're specifically looking for. But there's no accounting for the "impulse shopping" that inevitably happens. And since our homeschool is largely interest-driven, I try not to discourage new interests. So a typical visit begins like this:
"I want a book on sharks," the eight-year-old says. I begin to look up sharks on the computer. Just as I identify an interesting book on sharks, he says, "No, I guess I want one on snails." So I start over.
About this time I notice the six-year-old, who's supposed to be watching the one-year-old, studiously absorbing a book on off-road vehicles. I look around and find the baby eating a copy of Successful Farming.
I grab the baby, and return to looking for snails. Finding a computer listing for a snail book that looks interesting, we head to the stacks where we find the four-year-old taking books out of the mammals section and returning them to the reptile shelf. By the time I retrieve them and put them where the librarian can properly replace them, I've forgotten the call letters for the snail book. Returning to the computer, I find someone else is using it.
"I guess I want a book about in-line skating, anyway," my son says.
Finding another computer terminal, we start the process again. I try to use the keyboard, which is a problem since I, like most people, learned to type with two hands. Currently, however, I have the choice of using one hand or four: my two and the baby's two (which incidentally don't know how to type).
Eventually, we find the skating book which leads to a shelf full of books on dangerous hobbies, so my eight-year-old is delighted. The six-year-old has found an armload of books to interest him, and even the four-year-old is busy poring over a picture book. So I make my move . . .
"You guys read quietly here while I go across the room and find the book I want, okay?" You'd think I'd know better, but I don't.
The baby and I head for the familiar aisle that holds all the homeschooling books to see what they might have that's new. I pull a book off the shelf that looks interesting, and realize that I can't put it back without using both hands and, of course, putting the one-year-old down. I put her down, replace the book, and pick her back up with the speed of light. I am congratulating myself when, from the other end of the library, I hear . . .
"Mom! Katie won't let me have the Barney movie!"
I return to find two of my darlings in a tug of war over a singing dinosaur video, while my "peacemaker" son sits several tables away disassociating himself from the whole family.
Time to go.
We manage to check out without anyone getting injured. The librarian is friendly, maybe because she loves children or maybe because she realizes we are leaving.
The car ride home is unusually quiet as everyone examines their newly-borrowed treasures. Once home, we unload the book bag, retrieve the copy of Mama, Do You Love Me? and huddle up on the couch. The baby sits on my lap, cuddled under my arm with her thumb in her mouth. The others squeeze close. The six-year-old puts his head on my shoulder as I quietly begin to read the book aloud.
As I read the familiar words of a mother's reassuring love, I know that my children feel secure in that love and that they cherish moments like this as much as I do. I'm reminded that my calling to keep them close and teach them well is what's important. So even though it's good to be a positive witness, it really doesn't matter what the librarian thinks - or the carry-out boy or the neighbor or the mailman.
It only matters what the Lord thinks, and my children are never too noisy for Him!