---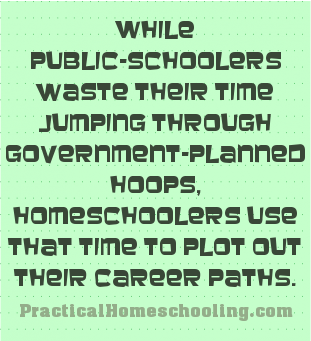 For homeschoolers, high school grades 9 through 12 represent a time of enormous opportunity to learn and grow. Whereas public schoolers are forced to accept all of the affective nonsense of Outcome-Based Education and multiculturalism that masquerades as education in today's government high schools, homeschoolers have the opportunity to use those four crucial years to learn what they really want to learn and what is important to learn as they plan their own futures.
High School = Options
In those teenage years young people generally get to know what they are interested in, what kind of careers they would like to pursue, and what they want to do with their lives. It is also the time to prepare for college. Thus, high school must provide exposure to a wide range of knowledge and interests, so that the student can find out where his or her talents and gifts lie.
Not all homeschoolers intend to go to college. For these, high school should provide the skills and knowledge needed to succeed in the working world. Since many homeschoolers will start businesses or services of their own, it is obvious that they will keep on learning and gain in experience as they advance in their endeavors. The homeschooler does not stop learning just because he or she has reached that age beyond compulsory school attendance. And, of course, advances in technology and increasing costs of tuition strongly suggest that college itself may become a practical area for home education. Indeed, CD-ROMs will make it possible to bring the best of professors and their courses into the homes of thousands of students.
Since high school is a time in which students can discover their true interests, the curriculum should offer a wide range of courses. And since we live in America, where basic principles of government and economy determine what kind of lives we shall lead, knowledge of those basic principles is absolutely essential if we are to defend and maintain our unalienable rights to life, liberty, and the pursuit of happiness.
What Do You Know?
What kind of curriculum would help us fulfill this basic American ideal of individual freedom? We must start, of course, with what has already been learned in grades 1–8. We assume that the basic skills of reading, writing, spelling, grammar, arithmetic, touch-typing, and computer technology have been mastered in varying degrees, and that such subjects as American history, geography, science, economics, foreign language have been studied to the extent that a 14-year-old can absorb them.
We assume that the youngster has also been engaged in a variety of hobbies and extracurricular activities such as drawing, acting, swimming and other sports, stamp or coin collecting, caring for pets, learning a musical instrument, hunting and target practice, running a small business, cooking, baking, helping parents, etc. We also assume that the Christian homeschooler has acquired a good knowledge of the Bible and the ability to argue against such liberal atheist doctrines as evolution, feminism, and socialism.
Take It From There
High school simply builds on what has already been learned in the earlier grades. It continues growth in such subjects as English, composition, mathematics, history, geography, science, economics, and foreign languages. It should particularly emphasize the expansion of vocabulary and the ability to write clearly and logically. The student must also study those subjects required for college entrance. College catalogs generally list these requirements. Thus, before you settle on your curriculum, you should write to the colleges and even speak to admissions officers for their advice. Many colleges these days seek out homeschoolers and are more than willing to help them prepare for college entry.
There is also the matter of the Scholastic Aptitude Test (SAT) and the ACT Assessment, either of which can be taken by college-bound students, although some colleges no longer require taking these tests. The SAT is divided into Verbal and Mathematical parts. The ACT includes four tests: English, Mathematics, Reading, and Science Reasoning. If you intends to apply for a scholarship of some kind, taking one or both tests may be necessary.
On the next pages you will find my outline of a suggested high-school curriculum for homeschoolers. Obviously you must tailor this curriculum to conform with your career needs. Flexibility is the key to a good educational program. Certain careers and professions require certain knowledge and skills. That is why it is good for a student to know what field he or she wants to get into. But since today's economy no longer offers guarantees of lifetime job security in any field, it is important to be able to do many things, including starting your own business. That's the way it was in earlier days, and that's the way it is today.