Puerto Rico Homeschool Organizations and Support Groups
Edit this group : Remove this group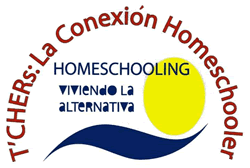 The Caribbean Center of Home Education Resources (T'CHERs)
279 Estancias de Imbery, Barceloneta, PR 00617
Contact: Mayté Perelló
Email: tchers2001@yahoo.com, contact@tchers.net
http://www.tchers.net

SCROLL DOWN FOR ENGLISH


Nuestra Organización

T'CHERs es una organización creada en 1999 como una corporación sin fines de lucro con el propósito de apoyar y promover la educación en el hogar en todo su espectro en Puerto Rico y las Islas Vírgenes Estadounidenses.

T'CHERs reconoce y respeta la diversidad de motivos, necesidades y estilos de enseñanza de las familias educadoras en el hogar.

T'CHERs se distingue de los grupos de apoyo de educadores en el hogar en que es una organización a nivel estatal. Muchos de sus miembros pertenecen a alguno de los grupos de apoyo locales mientras que otros no pertenecen a ningun grupo. La organización tiene más de 100 familias que son miembros y la membresía crece mes a mes.


Promoviendo el Desarrollo de Políticas

T'CHERs mantiene contacto con las agencias gubernamentales para que la educación en el hogar sea reconocida como una alternativa de educación con el fin de establecer una política que elimine el que los educadores en el hogar dependan de recursos externos para certificar su escuela en casa para poder recibir los servicios que solicita. El Departamento de la Familia (la división de ADSEF/PAN) y el Departamento de Salud (Seguro de la Reforma) tienen en estos momentos una política establecida. T'CHERs está trabajando con el Departamento de Vivienda y otras agencias, así como con el sector privado, para lograr que ellos sigan los mismos pasos.

T'CHERs ha estado en comunicaciones y reuniones con el Departamento de Educación para ayudarlos a establecer políticas para los educadores en el hogar que: (1) necesitan admisión o readmisión al sistema; (2) necesitan servicios de educación especial del sistema y (3) quieren dejar el sistema para educar en el hogar. Aunque la Carta Circular 2-2006-2006 del Departamento atiende el procedimiento de ubicación para los educadores en el hogar que reingresan al sistema, el Departamento de Educación aún necesita atender las necesidades de las familias de educación especial y desarrollar una política para las familias que desean salir del sistema.

T'CHERs ha ayudado a formar políticas de admisión para los estudiantes educados en el hogar en la Universidad de Puerto Rico y la Universidad Interamericana. Actualmente están en el proceso de ayudar a la Pontificia Católica de Arecibo a establecer su política de admisión para los educados en el hogar


Apoyo Legal

T'CHERs mantiene a sus miembros informados sobre los asuntos legales relacionados a la educación en el hogar en Puerto Rico y los motiva a que expresen sus opiniones para poder guiar a la Junta en las acciones a tomar.

Maria Luisa Inserni, miembro de la Junta, es una abogada dispuesta a aconsejar legalmente a los miembros de T'CHERs. Aunque se está trabajando para que todas las agencias acepten que los educadores en el hogar se auto-certifiquen, si es necesario, Maria Luisa provee una certificación de educación en el hogar por $25. Para comunicarse con ella debe llamar al (787) 390-1858 entre las 4:00 y 6:00 p.m.


Envolvimiento con la Comunidad

T'CHERs ofrece orientación gratuita sobre la educación en el hogar a todos los interesados. Por ejemplo: padres, agencias gubernamentales, oficiales de las escuelas y clases universitarias. Aunque la orientación está disponible según se solicite, T'CHERs organiza anualmente el Gran Mes de Orientación sobre la Educación en el Hogar para dar a conocer esta opción a los que están en busca de alternativas. También ayudan a establecer nuevos grupos de apoyo de educadores en el hogar en donde se muestre interés.

Desde el 2003, T'CHERs ha sido invitado a servir como conferenciantes en la Convención Anual del College Board, la cual se lleva a cabo en diferentes sedes en Puerto Rico. Para nuestras presentaciones desarrollamos temas sobre la educación en el hogar relacionada al tema principal de las convención. Las conferencias están dirigidas a profesionales del ambiente escolar tradicional de K-universidad (maestros, trabajadores sociales, administradores, etc.) y nuestra presentación sirve para enseñarles sobre la educación en el hogar y para construir puentes entre nuestras comunidades.

T'CHERs organiza Ferias de Educación en el Hogar para ayudar a los educadores en el hogar a mantenerse informados. T'CHERs ha celebrado dos ferias en Aguadilla y una en San Juan durante los últimos cuatro años. Los talleres incluyen tópicos como "Introducción a la Educación en el Hogar" para principiantes, "Cómo hacer un Portafolio", "Pasiones Singulares: Como Crear un Currículo Alrededor de un Tema", "Educando en el Hogar durante la Escuela Superior" y muchos, muchos más.

T'CHERs celebra foros regionales de un día sobre la educación en el hogar en distintas localidades. Los temas de los talleres se basan en los intereses de la membresía.

T'CHERs coordina un Campamento Familiar Anual en febrero. Esta es una oportunidad para relajarse y recargar baterías con otros educadores en el hogar. Junto con la diversión que el área ya provee de por sí , llevan a cabo charlas, actividades, intercambios y juegos para añadirle a la diversión del fin de semana.

T'CHERs ayuda a los educadores en el hogar del Caribe a contactarse unos con otros a través de actividades, esta página de Internet y los foros de mensajes.



-------------------------------------------------------------------------------

Our Organization

T'CHERs was created in 1999 and is a nonprofit corporation whose purpose is to support and promote the entire spectrum of homeschooling in Puerto Rico and the US Virgin Islands.

T'CHERs recognizes and respects the diverse motives, needs, and teaching styles of homeschooling families.

T'CHERs is distinguished from local homeschool support groups in that it is a state level organization, with many of its members belonging to the various local support groups around the island, and others not belonging to any local support group at all.


Promoting the Policy Development


T'CHERs has maintained contact with government agencies in order to encourage them to establish policies of self certification by homeschooling parents so that these families do not need to have an outside source certify their homeschooling in order to receive services. The Dept. of Family (ADSEF/PAN division) and the Dept. of Health (Reforma health insurance) now have a policy in place. T'CHERs is still working with the Housing Dept. and other agencies, as well as the private sector, in order to encourage them to follow suit.

T'CHERs has been in communication and meetings with the Dept. of Education in order to help them form policies for homeschoolers who 1) need admission or re-admission into the system, 2) need special education services from the system, or 3) want to leave the system for homeschooling. While the Dept.'s Circular Letter 2-2006-2006 (found in our Archives) addresses the placement procedure for homeschoolers back into the system, the Dept. of Ed. still needs to address the needs of special ed. families and develop a policy for those families who want to leave the public system.

T'CHERs has helped form homeschool student admission policies at University of Puerto Rico and Inter American University. We are in the process of helping Arecibo Pontificia Católica form their homeschooled student admission policy.

Legal Support


T'CHERs keeps its members informed of homeschool legal issues in Puerto Rico and encourages them to voice their opinions on those issues in order to give the Board direction.

Board member Maria Luisa Inserni is a licensed lawyer ready to help any T'CHERs member with legal advice. Although we are striving to get all agencies to accept homeschooler self certification, Maria Luisa will provide certification of homeschooling, if necessary, for $25.00. Please call 787-390-1858 between 4:00 and 6:00 P.M.

Community Support and Involvement


T'CHERs provides free homeschool orientation for those who are interested. (parents, government agencies, school officials, college classes, etc.) While orientation is available as needed, T'CHERs also organizes an annual island wide One Great Month of Homeschool Orientation in order to make the homeschool option more visible to those looking for alternatives. We are also available to help with establishing new homeschool support groups where there is an interest.

Since 2003, T'CHERs has been a presenter, by invitation, at the College Board's Annual Conferences, which are held at various venues in Puerto Rico. For our presentations we develop homeschooling topics related to the theme of the conferences. The conferences are geared toward professionals from the traditional K-College school environment (teachers, social workers, administrators, etc.) and our presentations serve to teach them about homeschooling and to build bridges between our communities.

T'CHERs has held Homeschool Fairs to help keep homeschoolers informed and give them a chance to get to know other homeschoolers from across the island. T'CHERs has held two Homeschool Fairs in Aguadilla and one in San Juan. Workshops have included such topics as "Introduction to Homeschooling" for new homeschoolers, "How to Keep a Portfolio," "Singular Passions: How to Create a Whole Curriculum Around a Single Interest," "Homeschooling High School," and much more.

T'CHERs has held regional one-day Homeschool Workshops at different venues around the island. Workshop topics are based on the interests and input of the membership.

T'CHERs coordinates an annual weekend Family Camp, in February. This is an opportunity to relax and recharge with other homeschoolers. Along with what the area itself provides for fun, there are planned talks, activities, and games that add to the weekend enjoyment.

T'CHERs helps homeschoolers in the Caribbean connect with each other by maintaining this web site and their message forum.

Copyright ©1993-2020 Home Life, Inc.