Texas Homeschool Organizations and Support Groups
Edit this group : Remove this group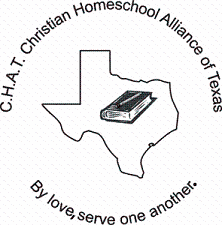 Christian Homeschool Alliance of Texas (CHAT)
P.O. Box 381998, Duncanville, TX 75138
Email: info@c-h-a-t.org
http://www.c-h-a-t.org

Christian Homeschool Alliance of Texas (CHAT) is a group of homeschooling families that come together to encourage and support one another by disseminating information of interest, by pooling resources to provide supplemental educational and enrichment opportunities like field trips and Enrichment Days, by providing opportunities for fellowship, and by creating a forum for the exchange of ideas.

CHAT has a variety of activities and extra-curricular programs. In previous years, we hosted a putt-putt event, a visit to the Dallas World Aquarium, a trip to Dallas Heritage Village, Christmas caroling, a day at Camp El Har, a tour of Mrs. Baird's Bakery, a tour of Lockheed Martin, Mom's Night Out, a talent show, a pizza party, a trip to the Ft. Worth Zoo, a museum visit, and visits to several musicals. We are the proud sponsor of the only local team in the BEST robotics program. We also have a program of extra-curricular classes, Enrichment Days, that offers a series of enrichment classes every other Friday over a period of twelve weeks each semester. Registration is $8/child/semester + nominal supply fees for classes.

Membership in CHAT costs $35 per year. Membership is open to homeschooling families who concur with this Alliance's Principles and are in compliance with its rules.

To send announcements about events, products, or services of interest to the alliance members, please email fyi@c-h-a-t.org .

For answers to any questions about CHAT membership please contact info@c-h-a-t.org or membership@c-h-a-t.org.

May God bless your family and your homeschool journey.

The CHAT Leadership Team

"By Love, Serve One Another"

Copyright ©1993-2020 Home Life, Inc.