Submit an Organization!
Organizations by Area:
---
Find out how to list your local store, classes, event, attraction, etc. here, where thousands of homeschoolers look for resources in their state!

New Hampshire Homeschool Organizations and Support Groups
Edit this group : Remove this group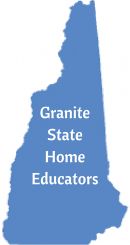 Granite State Home Educators
Statewide
Email: info@granitestatehomeeducators.org
http://granitestatehomeeducators.org/

We are an all-volunteer statewide grassroots organization created to support and empower parents who wish to actively direct their children's education through homeschooling. All are welcome -- prospective, current and retired home educators! Go to our website to become a member (free!) and to access our resources.

Our Facebook group is intended to be an interactive place for home educators to share educational and fun events, ask questions, and generally come together as a community.
https://www.facebook.com/groups/GraniteStateHomeEducators/

We encourage members to get involved as their interests and availability permit. Please contact us at info@GraniteStateHomeEducators.org to get involved. Thank you!

Copyright ©1993-2020 Home Life, Inc.