Submit an Organization!
Organizations by Area:
---
Find out how to list your local store, classes, event, attraction, etc. here, where thousands of homeschoolers look for resources in their state!

Oregon Homeschool Organizations and Support Groups
Edit this group : Remove this group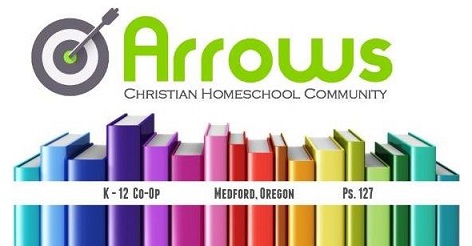 Arrows Christian Homeschool Community
Medford and Southern Oregon
Contact: Becky
Phone: (541) 292-2199
Email: becky@arrowschc.com
http://www.arrowschc.com

We are a Christian co-op meeting 26 weeks a year at a local church. We strive to provide fellowship opportunities and educationally enriching classes.


Mission

"Under His direction, the whole body is fitted together perfectly. As each part does its own special work, it helps the other parts grow, so that the whole body is healthy and growing and full of love." ~Ephesians 4:16

Our mission is to unite families, to build community, and to encourage academic excellence among the Christian homeschool families of Southern Oregon.

Purpose

Our main objectives are to provide academic support, social enrichment and spiritual encouragement for the Christian homeschooling families of Southern Oregon. Our classes provide supplemental educational experiences on a weekly basis to enrich and expand the learning opportunities for our home-educating families. We do not desire to supplant the home school vision or to create a complete school environment but to complement and supplement home education.


We aim to:

· Support one another in the pursuit and continuance of homeschooling

· Share experiences and pool resources

· Provide opportunities for ourselves and our children to build relationships with others


We believe that parents are responsible for the education and character development of their children. Our goal is to form and maintain a community, which enables parents, students and leadership to support and minister to one another in Christ, striving for both personal and educational growth as we acknowledge Him in all things. Parental participation is a key component to the community aspect of our co-op.

Copyright ©1993-2019 Home Life, Inc.