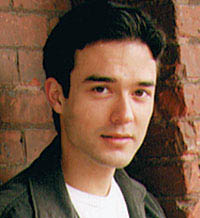 Joshua Harris
Former columnist for
Practical Homeschooling Magazine
.
Joshua Harris, age 22, was homeschooled his entire life. His book I Kissed Dating Goodbye is the best-selling book for Christian young adults in the country.
Visit Josh's website for a current listing of his conference schedule: www.joshharris.com

---
Homeschooling Articles by Joshua Harris
Are We Asking the Right Questions? What would Jesus do? Or are there some other questions we should also be asking?
"Big" Dreams Aren't Enough Why being "Mr. Big" may not be the best goal for your life.
Going to the Movies? Joshua Harris tackles this controversial subject.
Will the Homeschooled Homeschool? Will homeschooled kids grow up to be homeschooling parents?
The Men Who Have Shaped Me Joshua Harris tells us about the men who helped shape his life.
Thanks, Mom & Dad! Joshua Harris shares how he feels about graduating homeschool and leaving home.
Take Me Out to the Curriculum Fair Joshua Harris tells what he learned standing in line at all those homeschool curriculum fairs.