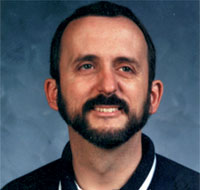 Bob Hazen
Former columnist for
Practical Homeschooling Magazine
.
Bob Hazen can be reached via email at bhazen@integrityonline31.com or via the internet at his homepage of algebraforkids.com or via groundmail at 1484 Canfield, St. Paul, MN 55108.

---
Homeschooling Articles by Bob Hazen
Primes, Part II What you never knew about the Sieve of Eratosthenes. Division practice with a difference!
Primes, Part I Using higher math to teach arithmetic.
The Equal Sign: Symbol, Name, Meaning What does "=" mean?
From Donald Duck to Flatland The fun side of math books.
Math Games, Part 2 Would you rather play games or do flashcard drills?
Math Games in the Curriculum Math games can make learning fun.
Thinking Fractions, Part 2 More ways to teach those pesky fractions.
Lies, Part III Don't get fractured over fractions.
Lies, Part I: The Importance of Consistent Verbalizations Why three and five does not make eight.
Why Manipulatives are Not Enough Bob Hazen shows us seven ways to translate math into real life.
Elementary Math Part 3 Rectangle magic and more!
Elementary Math Part 2 How skip-count songs can make all of elementary math much easier.
Elementary Math Part 1 Bob Hazen explains how to have fun and success teaching math.