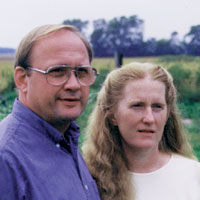 Harvey and Laurie Bluedorn
Former columnists for
Practical Homeschooling Magazine
.
Harvey and Laurie and their five children (ages 16 through 24) homeschool in New Boston, Illinois. They are available by phone or e-mail to answer your questions on how to apply classical education to homeschooling. Trivium Pursuit, 525 120th Avenue, New Boston, IL 61272 (309-537-3641), bluedorn@triviumpursuit.com, triviumpursuit.com.

---
Homeschooling Articles by Harvey and Laurie Bluedorn
The Logic Level Ten Things to do from ages 13-15.
The Grammar Level Ten things to do with your child from ages ten through twelve.
Building a Firm Foundation for Classical Education Ten things to do with your child before age ten.
How to Use the Internet to do Research Using newsgroups for Internet research. It's hot!
Why Give a Classical Education at Home? With all these great new classical schools starting up, why would anyone want to homeschool?
Contests in Your Curriculum How contests can enhance your homeschool.