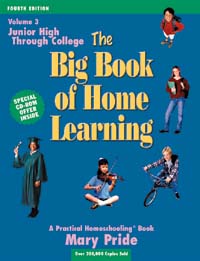 Big Book Volume 1 Sold Out!
Big Book Volume 2 Sold Out!
Big Book Volume 3 Sold Out!
---
"This is my second set of Big Books! I know your books can be trusted to give an accurate review! What would I do without them? They inspire me on to bigger and better things! Thank you for all the great work and for stretching my mind! God bless!"
Janis Eisele - OR, US
"The Big Book for primary and elementary grades was a revelation to me--I didn't believe until I was actually reading it that there could be such a useful, helpful, comprehensive guide to the materials out there. Thanks, Mary!"
Rachel Boylan - NJ, US
"I found the answers to my questions in The Big Book of Home Learning. I was impressed by the research that had gone into each product, and I appreciated the honesty in each review. I knew I was getting a true evaluation instead of an advertisement."
Rachelle McGuire - CA, US
---
The Big Book of Home Learning - SOLD OUT!
---
View the newest version of the Big Book series,
Mary Pride's Complete Guide to Homeschooling!
---
Here are your homeschooling answers! Bigger and better than ever before, the three volumes of The Big Book of Home Learning, Fourth Edition include the very latest in homeschool product reviews and how-tos - all from the people who bring you
Practical Homeschooling!
Volume 1: Getting Started includes:
The 12 steps to homeschool success
Answers to frequently asked questions
Our detailed "Curriculum Buyer's Guide" to dozens of major homeschool publishers, organized by grade level (elementary school or high school), by religious preference, and by educational philosophy
Introduction to all major homeschool teaching methods
Help in discerning your own learning, teaching, and organizing styles
Help for homeschooling a challenged child or a gifted child
And much more!
Volume 2: Preschool & Elementary offers you:
Genuine, detailed reviews (not just reworked catalog descriptions) of over 1,000 of the best educational products for this age group, divided by academic subject
How to master each subject area, as well as traps to avoid
How to teach phonics: a six-step approach with detailed instructions
Plus two bonus appendixes: a Suggested Course of Study for Elementary Students and the United States Constitution, with commentary to help you teach it in your own home.
And lots more!
Volume 3: Junior High to College offers you:
Reviews of hundreds of the best and most helpful educational products for grades 7-12
What you need to know to get ready for college, including how to prepare for the PSAT/SAT 1/SAT II/ACT/AP/CLEP/GED tests, how to choose and apply to a college, how to apply for financial aid, and alternatives to college
Teaching tips galore, as well as traps to avoid
Self-tests on grammar and the U.S. Constitution
Plus six bonus appendixes: The Myth of the Teenager, Suggested Course of Study for Junior and Senior High, Suggested Classical Reading List, GED Requirements by State, High School Guidance Survey, and Graduation Requirements for college-bound and vocational students

What we learned from writing this book helped two of our children become National Merit Finalists with full college scholarships!