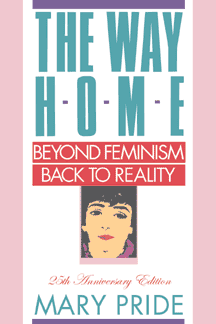 The Way Home, 25th Anniversary Edition
(#TWH)
Price: $12.99
Buying Unit: Each
- Are stay-at-home wives old-fashioned and outmoded (at best) or parasites (at worst)?

- Is daycare the natural habitat for babies and toddlers?

- Is family planning the only responsible choice for married Christian couples?

- Are Christian children doomed to rebel against their parents, and ultimately abandon church?

- Does the Bible include examples of "working wives"?

- Can a lovely Christian home actually affect the culture and the economy - just by being there?

25 years ago, The Way Home was the first book to ask all these questions - and answer them. A bestseller when it first came out, for decades The Way Home has been a source of inspiration and encouragement for married Christian women. It shows how the life plan set out in Titus 2:3-5 brings love and creativity to home, church, and society, and the deadly consequences to all three when women reject it. We have a special mission, and this book explains it step by step.

This 25th Anniversary Edition preserves the original book's text, so you can see for yourself how accurate its social predictions were. You will also find a new Preface and Afterthoughts dealing with such topics as

- Home Business (what kind NOT to start)
- TV and the Internet (the latest research and some suggestions)
- Fruitfulness (why "trusting God for your family size" is not a "baby derby")
- Modesty (it's important, but it's not about skirt lengths)
- Where the Patriarchy movement has veered off-course (starting with its name!)

Just as thought-provoking as the original edition, the 25th Anniversary Edition of The Way Home brings the Bible's message on family and social roles to an entire new generation of Christian women. Buy one for yourself, and more for your daughters!