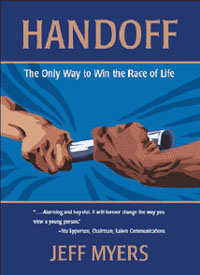 Handoff
(#HO)
Price: $12.99 Sale Price: $5
Buying Unit: Each
Within two hours of opening this little hardcover book, you'll know exactly how to motivate your children to stand up and stand out . . . and how to avoid losing them.

Dr. Jeff Myers* reveals the secrets of those who successfully mentor godly leaders, and how to pass this gift to your children when the whole world seems to want them to do nothing with their lives but whine, slack, or (even worse) fight for the WRONG causes.

- By page 27 you'll know the simple habits of those who win the race of life
- By page 48 you'll understand why today's kids are so hard to reach, and what they and their friends might not be telling you
- By page 81 you'll have learned how to break through the trust barrier and plant seeds of blessing
- And by the end of the book you'll know how to leave a legacy even if you and your kids have both blown it so far

*Dr. Jeff Myers, Associate Professor of Communication Studies at Bryan College, is the author of Secrets of Everyday Leaders DVD Coaching System, Secrets of Great Communicators DVD Coaching System, and numerous other resources, including Understanding the Times, the famous biblical worldview training course. More than two million people have used Jeff's training courses in worldview, leadership and communication. He is chairman of the board of Summit Ministries.