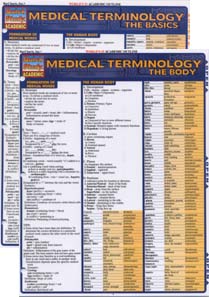 Med. Terminology: Basics & Body (2 guides)
(#BCMED)
Price: $13.90
Buying Unit: Each
Doctors, nurses, physician's assistants, and other health professionals . . . or anyone who ever has or will have any part of his or her body handled by said health professionals. That's who can benefit from this two-pack of Medical Terminology guides. Side bonus: You'll learn LOTS of Latin and Greek vocabulary.

"The Basics" teaches how medical words are constructed, then provides the roots, prefixes, and suffixes, with definitions, used to create all those scary words. Words are further broken down into directional terms, numerical values, surgical prodedures, diagnostic procedures, pathogens, terms relating to the five senses, and a very helpful section on synonyms. (E.g., "nose" is "nas/o" or "rhin/o" in medspeak.) Plus three-plus oversized panels of terms in alphabetical order, all defined.

"The Body" defines the components of each bodily system and provides mini-glossaries associated with each system (e.g., the respiratory system).