Homeschool World
Individual USA Groups Page(s) Order Form
If you wish to place your ad on the pages for specific states or USA territories, this is the place!
(If you wish to place your ad on ALL our USA state/territory pages, click here)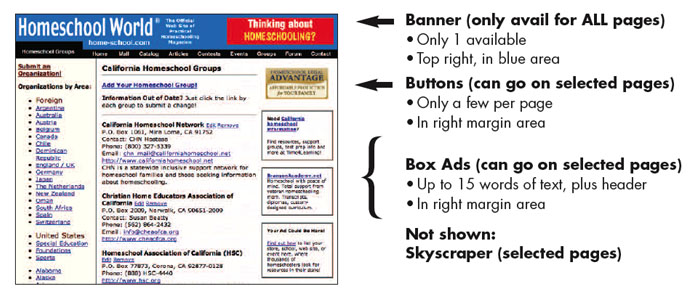 Your options include Skyscraper buttons, double buttons, regular buttons, and "box" (text only) ads. (Sorry, the banner on all our State/Territory pages has been taken by the same company for years!)
There is only ONE Skyscraper button per page, in the top left margin. The Skyscraper button is 120 pixels wide x 240 pixels high and can have multiple frames.
A small number of "double" and "regular" size buttons are also available. These are placed in the order of size, then in the order of reservation and payment. The longest advertiser of each size gets the best position for that size.
The "double" size button is 139 pixels wide x 139 pixels high. The "regular" size button is 139 pixels wide x 69 pixels high. Each can have multiple frames.
"Box" ads are text only, with a headline that links to your site and up to 15 words of "teaser" ad copy, surrounded by a black border.
Don't have a banner or button? We can either "stitch" together your graphics for you, or make a new button for you. No extra charge either way!
We generally get new ads up within 1-2 business days. Allow extra time if we're creating the banner or button for you.