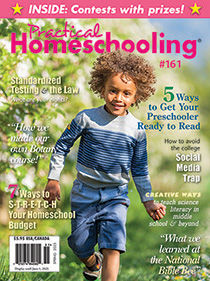 Don't let this be your last issue!
Practical Homeschooling Magazine Renewal Bonuses
(USA & Territories Only)
Hello, loyal subscriber! We want you to stay with us for another year or two, and are working hard to keep your business.
Thanks to our 200,000+ Facebook fans, we now have a better idea than ever of the questions you REALLY want answered! Plus, we're still spending thousands of hours every year researching educational news, trends, leaders, and more, to find out what you need to know (and save you from struggling with all the rest)!
Stick with us, and you'll get another year (or two) of super helpful, practical information. Plus "how they do it" Day At Our House diaries, reviews, and so much more. PLUS a great bonus -- check it out below!

---
Here's our current special offer (USA and Territories Only).

FREE with your 1- or 2-year renewal: "The Chef's Companion"!

This laminated, three-hole-punched "companion" will become your best friend in the kitchen. What can you substitute for that essential ingredient you ran out of? What quantities are equivalent? Safe cooking temperatures, by type of meat and weight. How long you can safely store dozens of foods in the refrigerator or freezer. Party planning chart helps you figure quantities to buy by number of guests. So much more! You could end up using this every day.

Normally The Chef's Companion is $4.95 plus $5 shipping, but it's yours FREE when you renew for 1 or 2 years!

Good Deal!
One year renewal
plus FREE "Chef's Companion" QuickStudy guide, $17.95

Best Deal!
Two-year subscription
plus FREE "Chef's Companion" QuickStudy guide, $35