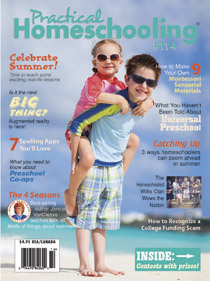 Don't let this be your last issue!
Practical Homeschooling Magazine Renewals
Hello, loyal subscriber! We want you to stay with us for another year or two, and are working hard to keep your business.
Thanks to our 80,000+ Facebook fans, we now have a better idea than ever of the questions you REALLY want answered! Plus, we're still spending thousands of hours every year researching educational news, trends, leaders, and more, to find out what you need to know (and save you from struggling with all the rest)!
Stick with us, and you'll get another year (or two) of super helpful, practical information. Plus "how they do it" Day At Our House diaries, reviews, and so much more. PLUS some great bonuses -- check them out below!

---
Good Deal!
One year renewal
plus FREE "How Do They Do It?"
Homeschool Diaries, $17.95

Best Deal!
Two-year subscription
plus FREE "How Do They Do It?"
Homeschool Diaries
plus FREE Discover Your Child's
MOTIVATION Style report, $35



For subscriptions outside the USA or library subscriptions, click here.
---
Here's our current special offer.

FREE "How Do They Do It?" Homeschool Diaries

Here are ideas & inspiration from three of our best "Day At Our House" diaries from years past.
Meet a large Indiana farm family and find out about their homeschool graduates, who were accepted at college back in the 1990s. Yes, colleges have been accepting homeschoolers for THAT long! And yes, this family has goats. Find out what curriculum they use and how they structure farm work along with homeschooling.

Spend a day with an Alaskan family that has younger children. Both Mom and a daughter have small businesses. Watch them pursue various interests, academic and not, while the children maintain relationships with older relatives in person and via mail.

Follow around a Virginia family, whose teens are involved in some very impressive activities. Their daughter was the very first homeschooled White House intern! The kids are in a homeschool theatre troupe. One does online classes for gifted kids. They study violin and American Sign Language, French and Latin, chemistry and geometry, and the daughter has filmed her own movie.
Not available anywhere else: but yours when you renew!

With a two-year USA individual renewal, you get even more: "How Do They Do It?" Homeschool Diaries AND Discover Your Child's Motivation Style!
You've heard about learning styles.

Now let us teach you about MOTIVATION styles!

You'll find out:

Exactly what type of learning motivates YOUR child
Which homeschool methods will work the best for him or her
Traps to avoid
Even a handy chart of the best learning approaches for each motivation style!

Discover Your Child's MOTIVATION Style is exclusively available with your 2-year renewal, while supplies last.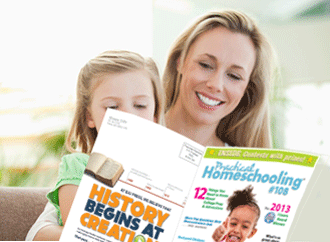 It Pays for Itself!
You could save the cost of your subscription MANY times over with the great advice you'll find in PHS. We frequently include money-saving tips in our issues. Example: Our current issue explains how to get Educator's Discounts at hundreds of stores.

Plus, if PHS helps your child win just one college scholarship, you'll have MADE money by renewing! So why delay? Let us help you make the most of your homeschool years. Just click on the desired button below to keep going!

Good Deal!
One year renewal
plus FREE "How Do They Do It?"
Homeschool Diaries, $17.95

Best Deal!
Two-year subscription
plus FREE "How Do They Do It?"
Homeschool Diaries
plus FREE Discover Your Child's
MOTIVATION Style report, $35



OUTSIDE USA:
Good Deal!
One year renewal, $27.95

Best Deal!
Two year renewal, $55


LIBRARY RENEWAL:
Good Deal!
One year library renewal, $29.00

Best Deal!
Two year library renewal, $55