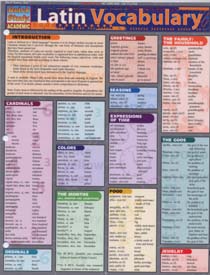 Latin Grammar & Vocabulary (2 guides) (#BCLGV)

Price: $9.90
Buying Unit: Each

Attention, all Latin scholars! The Latin Grammar guide contains: Alphabet. Numerals. Ordinals. Cases. Word order. Noun declensions. Pronouns. Comparatives. Superlatives. All the verb declensions. And much more, in an easy-to-review and colorful chart format!

The Latin Vocubulary guide has the vocab from a high-school Latin course with sublists of cardinal numbers, ordinal numbers, colors, months, greetings, seasons, expressions of time, food, family/household words, the Roman gods, jewelry, and then long lists of "general nouns," adjectives, adverbs, and verbs. English translation of each Latin word. Don't leave your domus without it!