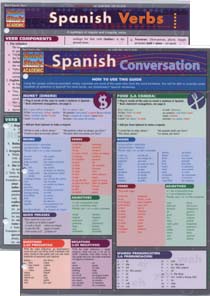 Spanish Verbs & Conversation (2 guides) (#BCSPV)

Price: $11.90
Buying Unit: Each

This was misspelled in our print catalog as "Spanish Verbs & Conjugation." It's actually two separate guides.

"Spanish Verbs" teaches verb components, verb types, how to conjugate -- all with examples -- plus hundreds of alphabetized verbs.

"Spanish Conversation" shows how to create grammatically correct Spanish sentences via a unique method of color coding. Also included: Spanish pronunciation, and tons of words efficiently broken down into categories (e.g., "entertainment") and subcategories (e.g, nouns, verbs, adjectives). Within minutes, you'll be able to create hundreds of sentences in Spanish!