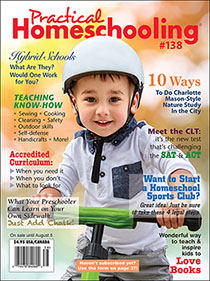 To see what's in this issue
click here.

Try Practical Homeschooling® Magazine for Free!

Want to check out the #1 homeschool magazine, for FREE? It's your lucky day!

The first 1,000 to fill out the form will receive a free complimentary copy of the Practical Homeschooling® issue pictured to the right.

If we run out, you'll be put in the list to receive a free sample of the next available sample issue.

Request yours now, as we expect these to go fast!

Several weeks after you receive your free issue, we'll send you a discounted subscription offer that includes several free bonuses. If you do not wish to subscribe, simply discard the offer.

Due to the cost of postage, this offer is for US residents only. Only one free sample issue per family per 2 years.

Click here to fill out our handy online form and request a free issue of Practical Homeschooling!