Give Your Whole Support Group A Full Year of Practical Homeschooling for Just $3 Each!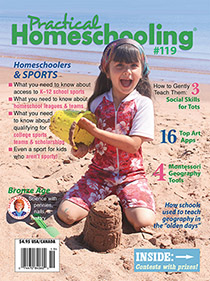 In the past, smaller groups were not able to receive group subscriptions, because we just couldn't afford the extra per-copy postage and handling for groups under 50 members.

But now, we are opening this up to a limited number of smaller groups. The only cost you pay is for part of the shipping cost - meaning, each subscription is discounted more than 80 PERCENT!

Here's how it works:
The number of copies that you request will be sent to the address you provide below. You can distribute them any way you find convenience (taking them to a support group meeting is probably simplest). Please provide a street address (if possible) and telephone #, as most copies are shipped via UPS.

We reserve the right to choose with which issue the group sub will start. (It will be based on available copies.) This would normally be our current issue, but if all copies are already distributed, it would be the upcoming issue.

We can only send copies within the continental USA (sorry, Alaska, Hawaii, Puerto Rico, Guam, and Canada).
Sounds great? Then just fill out the form below.
Thanks, and we look forward to continuing to serve you!