Missouri Homeschool Organizations and Support Groups
Edit this group : Remove this group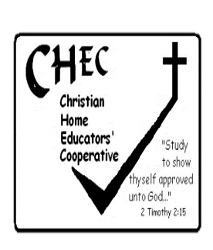 Christian Home Educators' Cooperative (CHEC)
1309 N. Elizabeth Avenue, Ferguson, MO 63119
Contact: Ferguson Nazarene Church or Kim McAdoo
Phone: (314) 522-3388 or (314) 837-5951
Email: checferguson@gmail.com
http://www.fergusonchurch.org/chec---christian-home-educators-cooperative.html

"CHEC" out our Facebook page: facebook.com/CHECFNC

CHEC is a diverse cooperative of parents dedicated to providing Christian home education supplemental enrichment classes by working as a team. It is our goal to help and encourage one another toward our high calling of raising up and nurturing a godly generation for the glory of the Lord.

*Train up a child in the way he should go, and when he is old he will not turn from it.*
Proverbs 22:6 (NIV)

As a Life Group of the Ferguson Church of the Nazarene, this organization works to fulfill Ephesians 4:11-12 and pool our gifts and talents "For the perfecting of the saints, for the work of the ministry, for the edifying of the body of Christ" (NKJ).

It is our desire to build supportive relationships among the CHEC families and glorify God in service to others.

Thursdays 11:00am-4:00pm (includes 30 minute hour lunch)
Four periods with classes for ALL ages at the same time!!
Fellowship for the whole family!
Academic and Fun classes!
One parent from each family serves teaching or assisting. Not a drop off program.
Nursery provided.
Affordable! $60 registration per year per family plus $10.00 per student per year. These cover facility and administrative expenses. Some classes may require additional supply fees.

Two stage performances per year including Music and Drama
High School Graduation Ceremony

Classes vary, but currently include:
Instrumental Music
Choir
Drama
Art
Science (Elementary through High School)
Creative Writing
Brass Ensemble
Beginning Spanish
Preschool Reading Readiness, Math Games and Science, Music
Creative Handiwork
Elementary Skills (Cooking, Bible Study, misc.)
Robotics
Computer Skills
School Newsletter
and more....
...and anything you can teach!!

If you're looking for classes and fellowship to round out your home school, come and work with us!

Copyright ©1993-2018 Home Life, Inc.