Maryland Homeschool Organizations and Support Groups
Edit this group : Remove this group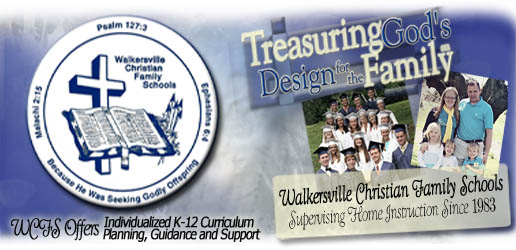 Walkersville Christian Family Schools (WCFS)
16827 Sabillasville Rd., Sabillasville, MD 21780
Contact: Brad Main
Phone: (301) 241-2072
Email: info@wcfs.edu
http://www.wcfs.edu

WCFS offers an individualized K-12 home-school program, we also offer a variety of programs that are open to all Christian homeschooling families. We strive to facilitate God's purpose for home instruction within the God-ordained family structure. Founded in 1983, WCFS was a pioneer for legalizing homeschooling in the State of Maryland, and an advocate families who desire a legal and godly alternative to "standardized" education. We are an International Home-school Oversight and High-school Diploma Program, acknowledged by the State of Maryland as a Private School, and Diplomas are accepted by Universities and Colleges world-wide. We have three international Sister Schools. Two in South Korea, and one in the Philippines. They are JIA, GHSA and TMHA. We desire to empower families who desire to raise their children in the fear and admonition of the Lord, and who are seeking a godly heritage, while pursuing excellence in education.

Copyright ©1993-2018 Home Life, Inc.