Submit an Organization!
Organizations by Area:
---
Find out how to list your local store, classes, event, attraction, etc. here, where thousands of homeschoolers look for resources in their state!

Indiana Homeschool Organizations and Support Groups
Edit this group : Remove this group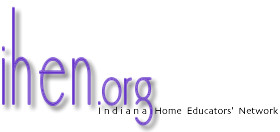 Indiana Home Educators' Network
P.O. Box 201, Mooreland, IN 47360
Contact: Benjamin Bennett
Fax: (425) 795-5959
Email: benbennett@ihen.org
http://www.ihen.org

The Indiana Home Educators' Network and the IHEN Web Project is dedicated to assisting Indiana home educators by providing access to personal contacts, information and resources related to all aspects of home education. IHEN facilitates open communication among home educators, support networks and resource providers throughout Indiana.

IHEN manages several e-mail discussion lists, including the largest list for homeschoolers in the state: IndianaHomeschoolers, with over 2,000 subscribers. http://www.indianahomeschoolers.com

Copyright ©1993-2018 Home Life, Inc.