Rhode Island Homeschool Organizations and Support Groups
Edit this group : Remove this group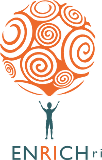 ENRICHri
P.O. Box 1151, Coventry, RI 02816
Email: info@enrichri.org
http://www.enrichri.org

ENRICHri is a secular community which provides support and guidance in a welcoming environment for homeschooling families in Southern New England.

We Promote: Life Long Learning, Community involvement, Cooperative classes, Active Membership, Cohesiveness and connection within the homeschool community.

ENRICHri is a nonprofit 501(3)C tax exempt organization.

ENRICHri does not discriminate based on race, gender, age, sexual orientation, faith, home education philosophy or methodology, physical or other challenges.

Copyright ©1993-2018 Home Life, Inc.