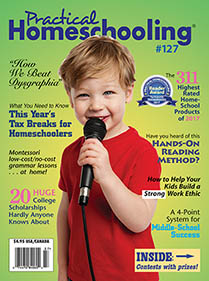 To see what's in this issue
click here.

Try Practical Homeschooling® Magazine for Free!

We have set aside a few hundred copies of the issue pictured to the right for sample issue requests.

Request yours now, as we expect these to go fast!

Several weeks after mailing your free issue, we'll mail and/or email you an offer to subscribe at a discount. If you do not wish to subscribe, simply disregard the offer.

Due to the cost of postage, this offer is for US residents only. Only one free sample issue per family per 2 years.

Click here to fill out our handy online form and request a free issue of Practical Homeschooling!