I posted this elsewhere but here is a picture of our homeschool classroom!
My husband is a computer nerd and set us up with a virtual blackboard that runs on a dual monitor system from my laptop. So I can sit here and keep track of him, keep up on bills and emails while he's watching intently and if he needs something on the blackboard, I can put it up on the other monitor. I thought it was going to be a big hassle and I fought it to begin with. I had to do some photoshop work with the scanned images - but that's what I did before I was a homeschool mom. Worked in graphic design - it wasn't all that hard.
We lucked out, when we moved this summer, our landlord hadn't finished the house quite yet and asked us what we wanted, a spare room or a garage... we jumped on the spare room so we could have a dedicated school room. We've partitioned it off since it's so long and part of it is storage also.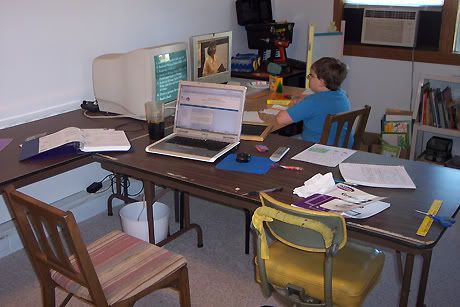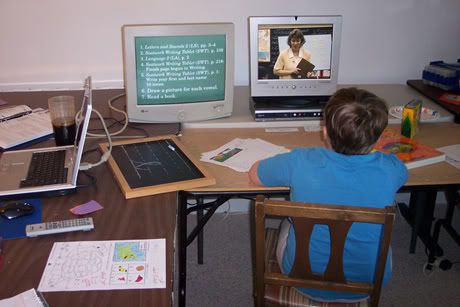 I thought more people might want to share pictures of their classrooms! I'd love to see them.