Practical Homeschooling Magazine Is a Proud Sponsor of The CurrClick Science Fair
Live (video-streaming) Coaches, Teamwork, Prizes & Fun!

---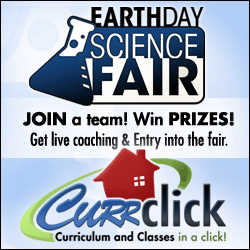 Believe it or not, Spring is quickly approaching. And that means It's time to start thinking about how you plan to incorporate science and nature into your homeschool.
That's why Practical Homeschooling magazine has sponsored and is excited to share with you, the 2013 CurrClick Science Fair.
The cost to sign up, be coached, learn about science and possibly win prizes is only $7, down from $20.00 last year.
Starting in early March, homeschool kids from all over the world will begin meeting live, online with a science fair coach (live streaming video and audio) and other teammates, to start planning their science fair video projects.
Kids can choose the team they want to join and the science fair project they wish to study and create.
Prizes will be awarded to the top five science fair videos in 2 different age groups.
Plus, individuals can earn scores that contribute to their team's success as well.
The CurrClick Science Fair is a great way for your kids to meet other homeschool children from around the world, be social and have an absolute blast learning science.
For more information or to join a team, click here!
To watch videos from past CurrClick Science Fairs click here!
The science fair projects will be judged by Rachel Yunis of Apologia and Paige Hudson of Elemental Science. First live group coaching sessions start March 4th.
---
Was this article helpful to you?
Subscribe to Practical Homeschooling today, and you'll get this quality of information and encouragement five times per year, delivered to your door. To start, click on the link below that describes you:
USA Individual
USA Librarian (purchasing for a library)
Outside USA Individual
Outside USA Library