Request Your Free Group Subscription to Practical Homeschooling for Your Group of 50 and Up Members!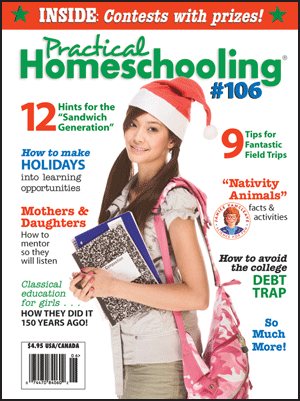 To celebrate our 21st year of publication, we are pleased to offer 2100 homeschool group members free bulk subscriptions to our print magazine, Practical Homeschooling!

So 21 groups of 100 (for example) can sign up, or 42 groups of 50. Be one of those groups!

To take advantage of this great no-cost opportunity for your group of 50 or more members, sign up today!

(If you have 10–24 members, click

HERE

for our "almost free" offer.

If you have 25–49 members, click HERE for our "even closer to free" offer.)

Here is how it works:
The number of copies that you request will be sent to the address you provide below. Please pick a contact person and address that should not change for at least a year.

You promise to make a good-faith effort to distribute all copies sent. If, due to changes in membership, you have extra copies, please ask members to donate them to their church libraries, doctor's offices, etc. You can also ask us to reduce the number of copies we send.

We reserve the right to choose with which issue the group sub will start. (It will be based on available copies.)

While we hope to keep offering free group subs for a long time, we must reserve the right to discontinue free group subs at any time, or any particular group sub at any time for any reason. If we do so, to avoid disappointment, it is our intention to email you in advance.
To start receiving your free issues, just fill out the form below.
Copyright ©1993-2018 Home Life, Inc.