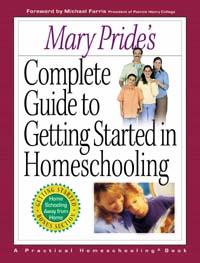 Mary Pride's Complete Guide to Getting Started in Homeschooling
(#MPG1)
Price: $29.99
Buying Unit: Each
** No longer available in book form. Returning soon as ebooks!

Mary Pride's Complete Guide to Getting Started in Homeschooling offers you:

-- What homeschooling is all about, and how it has recently changed
-- Twelve steps to a successful homeschool
-- How kids really learn. Discover your own "discovery channel" and "learning style," too!
-- Education 101: how to prepare kids to learn, how to teach them, and how to evaluate them
-- 12 popular and soon-to-be-popular homeschool methods explained. Have you heard of the "Maloney Method" yet?
-- An entire section that spells out exactly how to do a unit study
-- Everything you need to know about planning, recordkeeping, testing, and state standards
-- Help for homeschooling special-needs and gifted children
-- Options for homeschooling with a school or group
-- Homeschooling away from home: how, when, and where
-- Appendices with research graphs and charts showing homeschool success, homeschool laws by state and territory, homeschool groups listing, contests homeschoolers can enter, and what to do if there's a social worker at your door
-- Hundreds of detailed reviews, including price and where to buy each product
-- 624 pages

** No longer available in book form. Returning soon as ebooks!