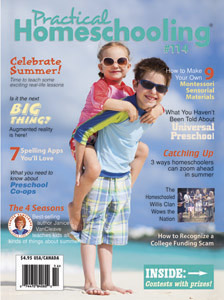 Practical Homeschooling / 2 Years + All 3 Secrets Brochures + Socialization Report (#PHN2-AS)

Price: $35
Buying Unit: Subscription

Save with a two-year subscription to Practical Homeschooling magazine! Also includes all three brochures FREE - Mary Pride's Homeschooling Secrets, Mary Pride's Organization Secrets, and Mary Pride's Curriculum Secrets - plus A Whole New Look at Socialization. Ten issues in all.