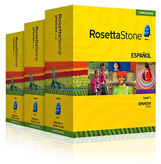 Win Rosetta Stone Language Software!
You can win a prize just for participating! To encourage you to respond, we will select one ballot at random to receive one level of the language of their choice from Rosetta Stone - a $159 value.
Yes, this is the same famous foreign-language software whose ads you have heard on the radio and seen in homeschool magazines.
How to Vote
Simply rate every product with which you are familiar on a scale of 1 to 10, where 1 = pitiful and 10 = awesome. You can ignore those you haven't tried personally. At the bottom you'll be able to enter your name and contact info for the prize drawing.

Your Vote Matters!
The results of this ballot get printed in a future issue, enabling all loyal PHS subscribers to see which educational software and websites other homeschoolers consider the very best in each category. Please, help your fellow homeschoolers by sending in your vote. Your opinion matters!

"But I Haven't Used Most of The Software or Sites on the Ballot!"
It doesn't matter how many or how few ratings you enter. Each rating is averaged with the others for that same product or site, so each additional rating helps! The ballot drawing is random. Even if you only are familiar with a few products or sites, you have the same chance as everyone else. So go ahead and start voting!